Discover more from Elly's Art Blog
the concepts & thoughts behind my art
The HEXAGA Chair
I designed and built a chair - here's how it went (ft. IKEA's Marius Stool).
Challenge: design and build a chair using IKEA's Marius stool in the final product
When I think IKEA, I think of self-assembled furniture and Swedish meatballs.
Assembling furniture is fun, but building a chair from scratch is even better. 
In November 2022, the Chair Design Project launched, and I began thinking about how to challenge conventional chair design. Additionally, IKEA donated a MARIUS stool to each of the 31 visual art majors to incorporate into our final product.
So, I built a chair with the Marius stool - here's how it went.
Thanks for reading Elly's Art Blog. Subscribe for free to receive new posts and support my work.
1/5: Ideation
While it's easy to gloss over the ideation phase, the time spent on brainstorming compounds to ramp up speed the process in later stages.
I analyzed five regular and five dream chair designs. Here, I identified key features making the everyday chairs functional and my favourite elements of the dream chairs.
I integrated the two sets of characteristics to develop four designs. Each chair takes inspiration from the role of hexagons in nature. While hexagons are visually pleasant on tortoise shells and snowflakes, they're structurally functional as the most scientifically efficient packing shape.
2/5: Maquette
After deciding on the idea, I began building a small-sized model of my final product. The design feature a black-white contrast united through the hexagonal structures.
3/5: Making the Chair
Materials: an IKEA MARIUS stool, black & white foam boards, white bristol boards, white fabric (cushions), polyester stuffing (cushions), hot glue & super glue
The greatest challenge I faced through building the chair was ensuring the parts fit together. There was a small margin of error, and the slightest measurement mistake resulted in pieces deemed useless. 
I also struggled with the size of the chair - I repeatedly underestimated the materials, time, and space required to build each section.
3.1 Cut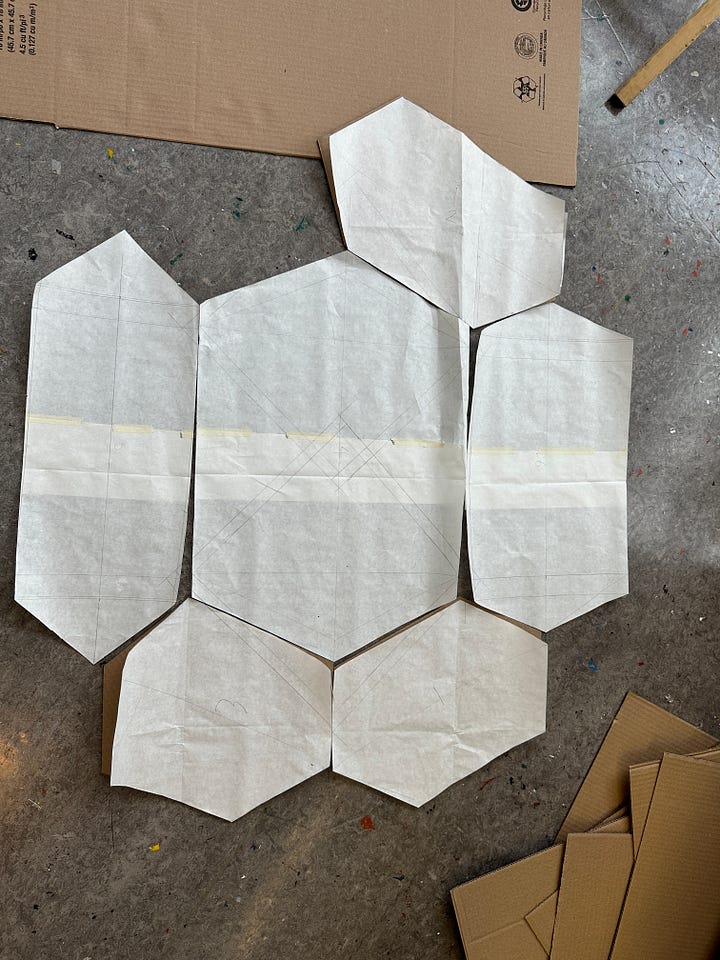 3.2 Assemble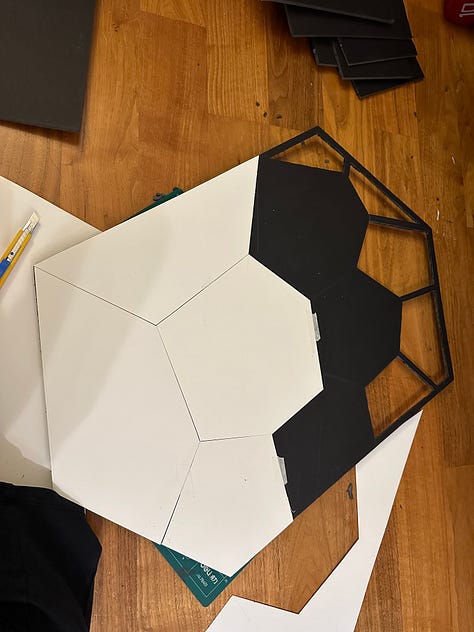 3.3 Build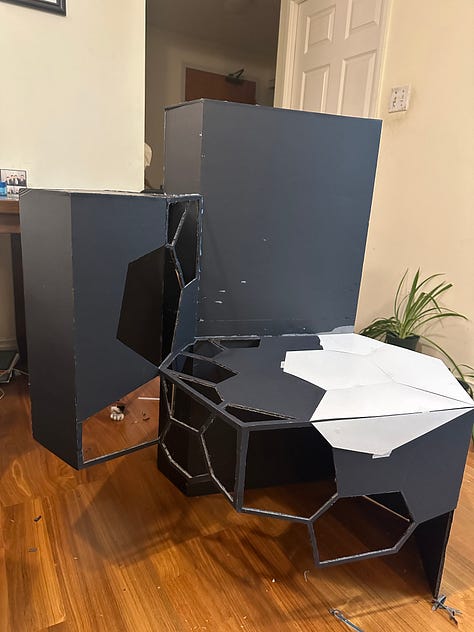 3.2 Cushion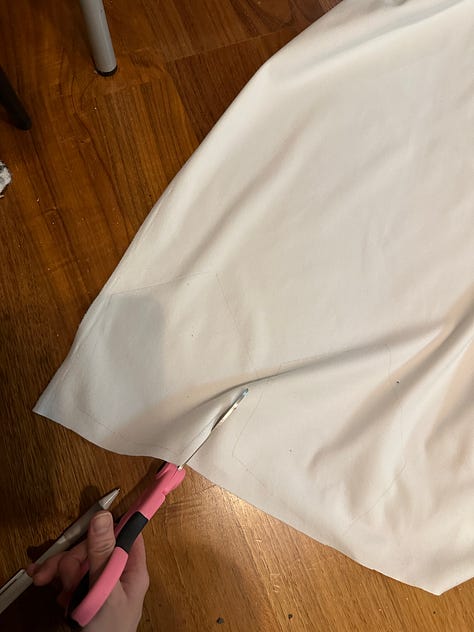 3.5 Plate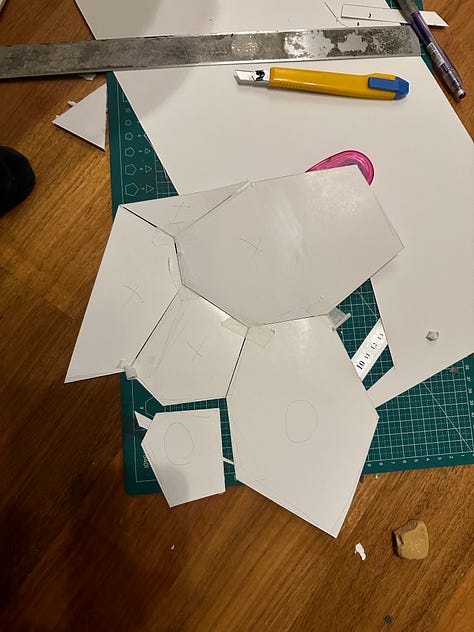 4/5: Technical Drawing
After completing the design, I developed a technical drawing to complement my chair's clean, geometric, and precise nature. 
5/5: Final Product
The HEXAGA chair comprises two parts: Large Hex & Small Hex.
Large Hex is built of 6 hexagonal structures adorned with hexagonal cushions and plating. 
Small Hex displays one hexagonal structure and features IKEA's MARIUS stool. It slides seamlessly into the hollow base of Large Hex as a design element, and Small Hex can also act as a complementary table when taken out. 
--
While I battled with the chair's precision, size, and delicate nature, it is my favourite creation thus far. To the viewer, the chair showcases an asymmetrical yet geometrical design featuring contrasting black and white components. To me, it symbolizes patience, resilience, and creativity. 
One hundred hours later, the HEXAGA chair is completed. 
Thanks for reading until the end. Subscribe for free to receive new posts and support my work.